Frequently Asked Questions
Planning to visit us at Radisson Plaza Hotel but have some questions or concerns? Check out our frequently asked questions to put your mind at ease.
The Radisson Plaza Hotel & Suites consider group reservations of 10+ rooms.  For group reservations please contact Group Sales by email sales@ghgkz.com.
Wedding Room Blocks

Business Groups

Conference & Events

Sports Teams

Family Reunions

Sporting Events
At the Radisson Plaza Hotel & Suites we recommend booking your group room block no later than nine months prior to your event.
Guest rooms are assigned at check-in, therefore, the guest rooms will not specifically be on the same floor.
The Radisson Plaza Hotel & Suites has three ways that the guests can make their reservation in the block:
By Phone: please call 269-343-3333.

By Email: please email reservations@ghgkz.com,

 please include the name of the group block.

Online: please contact your Sales Manager to set up a personalized block code.
Yes! Our on-site audio visual team offers a complete suite of virtual packages from Virtual Studios to Live Streaming to Simulcasting in multiple on property event spaces.
Email us at sales@ghgkz.com or call at 269-226-3120.
The Radisson Plaza Hotel & Suites has a dedicated team to help you plan and book your wedding, meeting, or conference.  Please contact us at sales@ghgkz.com or 269-226-3120.
The Radisson Plaza Hotel & Suites goal is to respond to your inquiry within one business day of receipt.
If you lose your parking card, contact Radisson Parking Services at 269-492-6862 or radissonparking@ghgkz.com. A replacement card will be provided at a cost of $20.
Please park in the nearest valet space and take note of the number on the space. Also collect the vehicle make, model, color and license plate of the vehicle parked in your space, if possible. Call our main line of the hotel at 269-343-3333 and inform them of the situation, the vehicle information (if collected), and that you are requesting assistance from our Security team. We recommend leaving your phone number as well so that the security team is able to follow up with you as needed. The Security personnel will follow up with you when the situation has been resolved.
In order to lift the gate arm, hold the parking card over the unmarked rectangular card reader. This reader has 4 red lights on it and is located in the lower left corner of the parking machine. See below. PLEASE DO NOT INSERT YOUR CARD INTO THE MACHINE.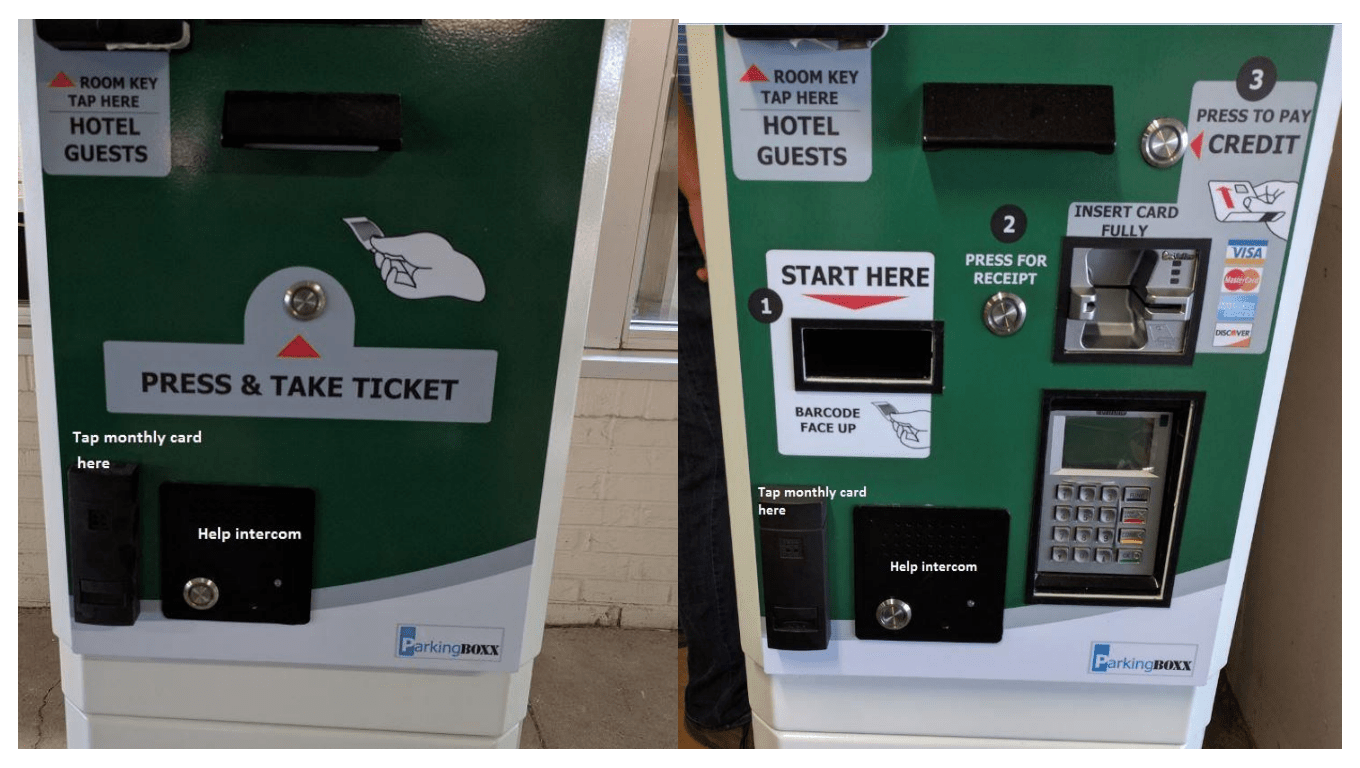 All vehicles that may be parked in the ramp must be listed on the parking form.
Any vehicle changes, whether it be a new car or a new license plate, must be reported as soon as possible. A new parking form should be filled out. This form, once completed, can be emailed to radissonparking@ghgkz.com.
If there is a back-up due to another guest having issues, please help them find the help button on the machine and press it, or you may contact the hotel operator at 269-343-3333 so that they can send someone out to assist. Please do not use your card to let others out as then the card will not work to let you out afterwards.
You must notify Radisson Parking Services in writing on or before your last day of parking in the ramp. Any parking charges will be prorated through the date of notification if the parking card is returned within 2 business days. Otherwise, parking charges do not cease until the card has been turned in.
Please place the parking card in a sealed envelope to the attention of Parking Services.
Contact Radisson Parking Services on or before the date you wish to make the switch. Your upgrade fee will be prorated through the date of notice.
Contact Parking Services for availability. Once a space is selected, provide Parking Services with billing information for the upgrade fee if it is not already on record.
We currently only accept automatic payments via credit or debit card on file. Payments are due by the 1 st of the month.
To place a credit or debit card on file for automatic payment please go to our website https://radissonkzoo.com/parking where you can fill out the authorization form.
Still have questions that were not addressed here? Please contact Radisson Parking Services at 269-492- 6862 or radissonparking@ghgkz.com.