Hassle-free parking, connected by skywalk.
Park your car and take the skywalk to the second-floor entrance of the Radisson Plaza Hotel. Your car will be protected from hot summer sun and winter snow. Our covered parking structure has 900+ parking spaces, with 20 handicap-accessible spots and a gradual ramp to accommodate guests with accessibility needs, rolling luggage, or children in strollers.
Convenient location and access in downtown Kalamazoo.
The parking structure is located at the intersection of Rose Street and West Michigan Avenue in downtown Kalamazoo. There are two entrances, one on Rose Street and another on Church Street. The three-lane exit opens onto Church Street.
For more information on parking, please visit our front desk or call  269.343.3333.
World class valet service you can trust.
Our certified and insured valet drivers take pleasure to park for you. Our valet services extend to our overnight hotel guests at $30 for unlimited services, as well as to our guests dining at Burdick's Bar and Grill for $5, and to our Webster's Prime guests who receive valet services complimentary.
Due to the COVID-19 pandemic, all valet services have been suspended. We look forward to providing this service again in the future.
Rates
Hours 1 – 4: $2.75 per hour
After 4 hours: $2.00 per hour
Daily maximum: $30.00
Lost ticket: $30.00
Payment
Cash or credit/debit card accepted at pay stations, located on the first level of the ramp and just inside the Radisson, near the skywalk.
Credit/debit card accepted at the exit gate. No cash accepted at gate.
Rates
General monthly pass: $110.00 per month
Includes parking for one vehicle in any unmarked space in the ramp and unlimited in/out use for that vehicle.
Monthly pass with reserved space: $150.00 per month
Includes parking for one vehicle in a designated, reserved space and unlimited in/out use for that vehicle.
Volume discounts available.  Please call 269.343.3333 for more details.
Step 1:
Complete the parking application.
Step 2:
Complete the credit card authorization form to set up auto payments.
Step 3:
Allow up to 2 business days for processing. You'll be notified via email when your parking pass is ready to pick up.
Step 4:
Pick up your pass at the front desk in the first floor lobby of the Radisson.
Step 5:
Start using your pass to park.
Automatic payments are charged on the first business day of each month, using your credit/debit card on file.
Click here to fill out a credit card authorization.
If you need more information on hourly and overnight guest parking, visit our front desk or call 269.343.3333.
For additional information on monthly parking, email us at radissonparking@ghgkz.com.
If you lose your parking card, contact Radisson Parking Services at radissonparking@ghgkz.com. A replacement card will be provided at a cost of $20 within 24 business hours.
Please park in the nearest valet space and take note of the number on the space. Also collect the vehicle make, model, color and license plate of the vehicle parked in your space, if possible. Call our main line of the hotel at 269.343.3333 and inform them of the situation, the vehicle information and that you are requesting assistance from our security team. We recommend leaving your phone number as well so that the security team is able to follow up with you as needed. The security team will follow up with you when the situation has been resolved.
In order to lift the gate arm, hold the parking card over the unmarked rectangular card reader. This reader has 4 red lights on it and is located in the lower left corner of the parking machine. See below. PLEASE DO NOT INSERT YOUR CARD INTO THE MACHINE.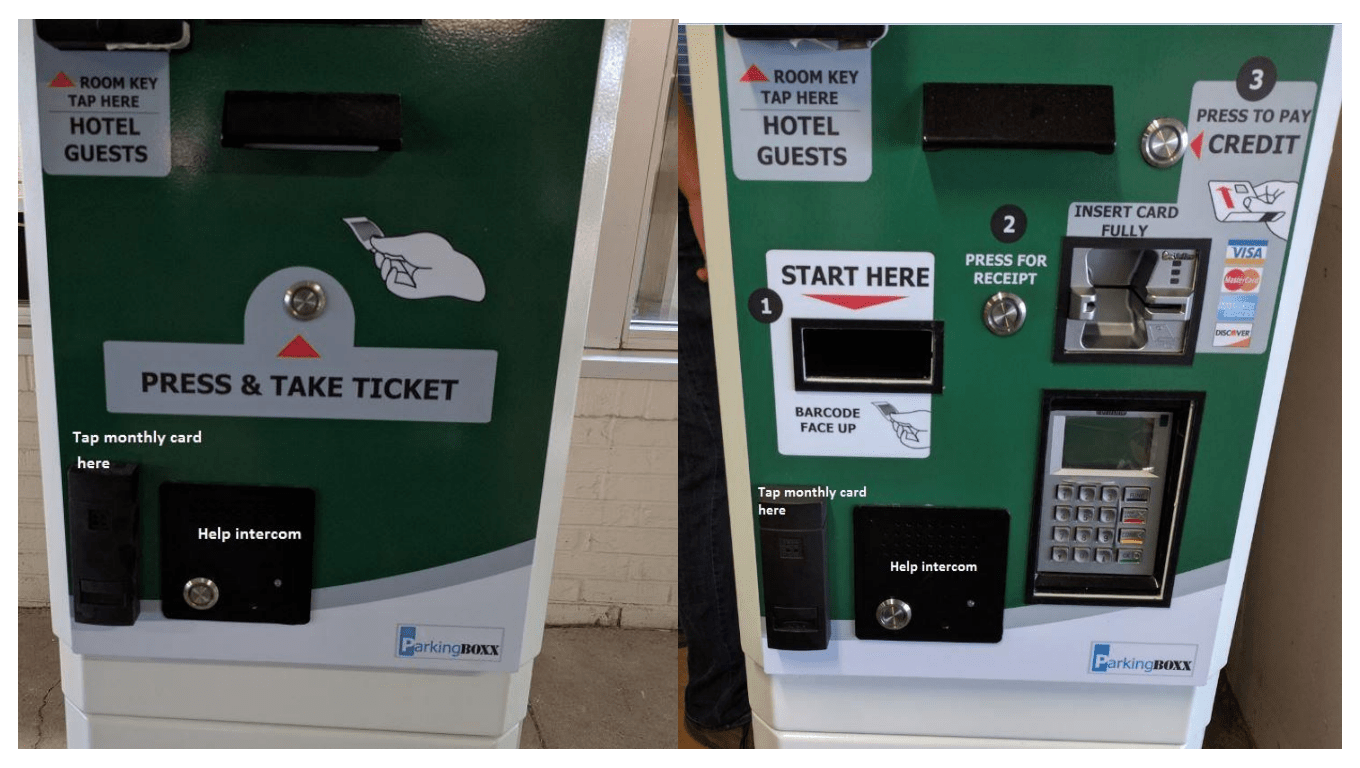 All vehicles that may be parked in the ramp must be listed on the parking form.
Any vehicle changes, whether it be a new car or a new license plate, must be reported as soon as possible.  A new parking application form should be filled out. 
The application form, once completed, can be emailed to radissonparking@ghgkz.com.
If there is a back-up due to another guest having issues, please help them find the help button on the machine and press it, or you may contact the hotel operator at 269.343.3333 so that they can send someone out to assist. Please do not use your card to let others out as then the card will not work to let you out afterwards.
You must notify Radisson Parking Services at radissonparking@ghgkz.com in writing on or before your last day of parking in the ramp. Parking card must be turned into the Radisson front desk on the last day of parking, or a $20 card fee will be added to the account.
Please place the parking card in a sealed envelope, with Parking Services written on the front of the envelope.  The envelope can then be dropped off to the Radisson front desk.
Contact Radisson Parking Services at radissonparking@ghgkz.com on or before the date you wish to make the switch.
Contact Parking Services at radissonparking@ghgkz.com for availability. We will assist you in finding a reserved parking spot, once the space is selected, we will update your billing information. 
We currently only accept automatic payments via credit or debit card on file. Payments are due by the 1st of the month.
To place a credit or debit card on file for automatic payment click here.
Still have questions that were not addressed here? Please contact Radisson Parking Services at 269.492.6862 or radissonparking@ghgkz.com.